The oysters seeds (in a way, the "embryos of oysters ") begins their growth on parks, which are discovered when the tide is low; so, oysters can get oxygenated more easily. There are two techniques of farming: in "oyster bags " and " on the ground ".
The farming on the ground needs of course, much more workforces, but it presents the big advantage to let the nature taking care of the oysters, which develop in their will. The harvest is a particularly delicate operation; only experimented men are authorized to dredge the oysters.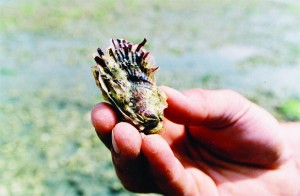 This method implies to have a fleet of boats, the "dredgers".
Oysters are the object of daily attentions on behalf of the "farmers", (who work at the rate of the tides and according to their cycle); it is only at the end of three or four years when Jean-Jacques CADORET's teams harvest them.