[H3] Dietetics[/H3]
Beyond its gustative interest, oysters are a "class one" food in a nutritional plan
– Poor in calories, fats and cholesterol
– But rich in proteins and in vitamins (mainly B12), in magnesium, in potassium, iron, copper, in calcium, in phosphor, in sodium, and, naturally, in iodine.
To consume oysters means how to join the very useful and the very pleasant…
[HR]
[H3]Tasting[/H3]
To appreciate completely the gustative qualities of the oysters, some precautions must be taken – exactly as during their growth. We can keep them one week before tasting them, in its wooden box or in a flat dish, and in the bottom of the fridge (at a temperature included between 6 and 9°)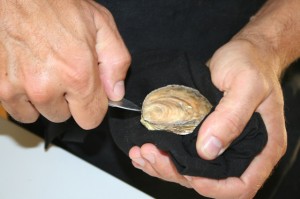 They must be opened only shortly before the tasting. We can throw "the first water ", what will allow to eliminate the possible fragments of shell; the oyster will produce naturally «their second water".
On the dish, the oysters are laid if possible, on a bed of seaweeds put on crushed ice.
The best is to consume the Oysters naturally; we can also appreciate them with some pepper or some lemon; the wine vinegar with shallot is not the best choice, because it ruins the iodized flavours.
A slice of bread of rye, a good Breton salted butter and a small glass of dry white wine, here is which will celebrate a perfect marriage … a love marriage!